ReGun is part of a comprehensive ReCas anti-drone solution.
persons behind an obstacle
Independent hand-held directional jammer specially designed to jam of the most commonly used commercial, do-it-yourself and military drones that threaten objects of critical infrastructure, facilities or protected persons. ReGun will send a drone to the ground, or send it back to the launch site.
ReGun is part of a comprehensive ReCas anti-drone solution.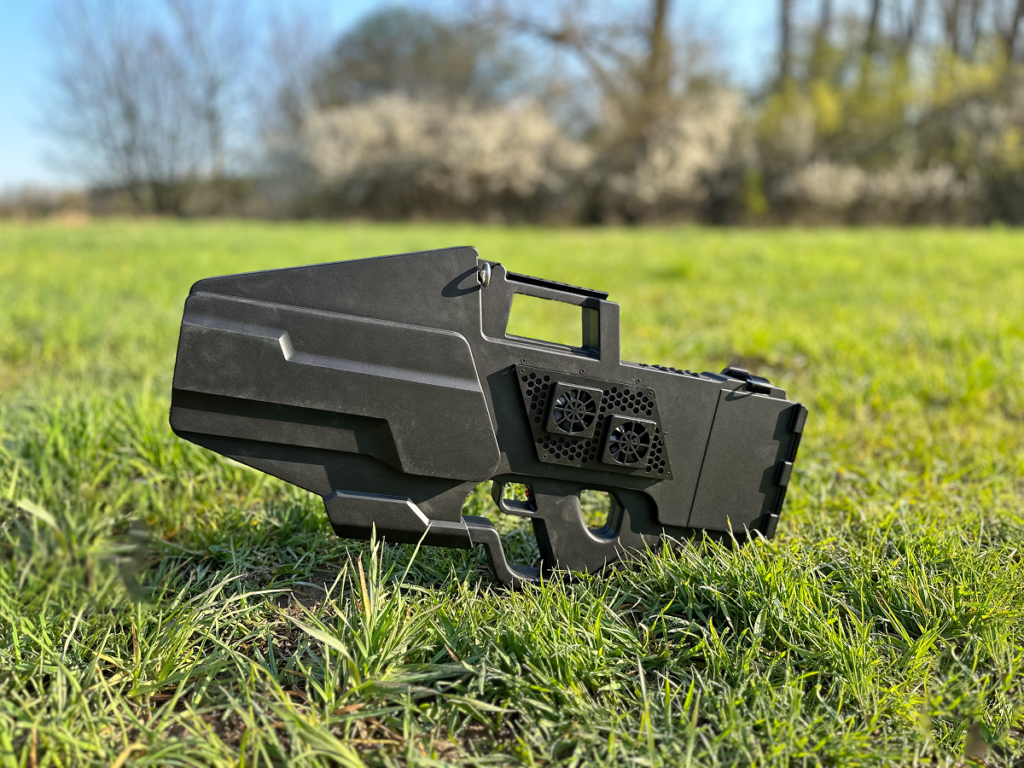 It can jam remote control, telemetry, GNSS systems, video links and drone data transmission:
5 ISM bands: 433 MHz, 868 MHz, 915 MHz, 2.4 GHz and 5.8 GHz
GNSS satellite navigation systems: GPS, GLONASS, GALILEO and BEIDO
It will jam the drone at a distance of 1,000 m or more, depending on the type of drone being jammed and the distance from its remote control.
The jammer is certified as safe for humans according to international regulations.
ReGun jammer with optical reticle*
Two rechargeable Li-Pol batteries
Battery charger
Spectrum analyzer for testing of the functionality
Textile transport case for carrying
Durable transport case for storage and transport
* Optionally available with advanced mobile operations console for connectivity with the C2 system.
Frequency coverage 
5 RF bands – Control, Video + Telemetry:

433 MHz (420 – 450 MHz)
868 MHz (860 – 902 MHz)
915 MHz (902 – 928 MHz)
2,4 GHz (2 400 – 2 485 MHz)
5,8 GHz (5 725 – 5 850 MHz)

4 types of GNSS system:

GPS/QZSS: L1/L2/L5
GLONASS: L1/L2/F1/F2
BEIDOU: B1/B2/B3
GALILEO: E1/E5/E6

Range of directional coverage
Directional coverage range 500 to 1 000 m
Range of angular coverage
Vertical + Horizontal 30° to 45°
Operational modes 
Each band separately or all bands at once
Build-in display
OLED with display:

start-up process – test
battery level, temperature and selected bands
bearing direction using the built-in digital compass

Battery type
Li-Pol, user replaceable rechargeable battery 22.2 V, 10 000 mAh
Stanby time 
Up to 48 hours
Operational time
Up to 60 minutes
Battery rechargeable time 
Approx. 4 hours (from full discharge up to full charge)
Weight
7,5 kg
Dimensions
68 x 37 x 9 cm
Environmental and physical resistance
Operating temperature: -15 to 55 °C
Storage temperature: -20 to 70 °C
Mechanical resistance: IP6x
Overheating protection: 55 °C
Safety 
In accordance with international standards for radiation risk